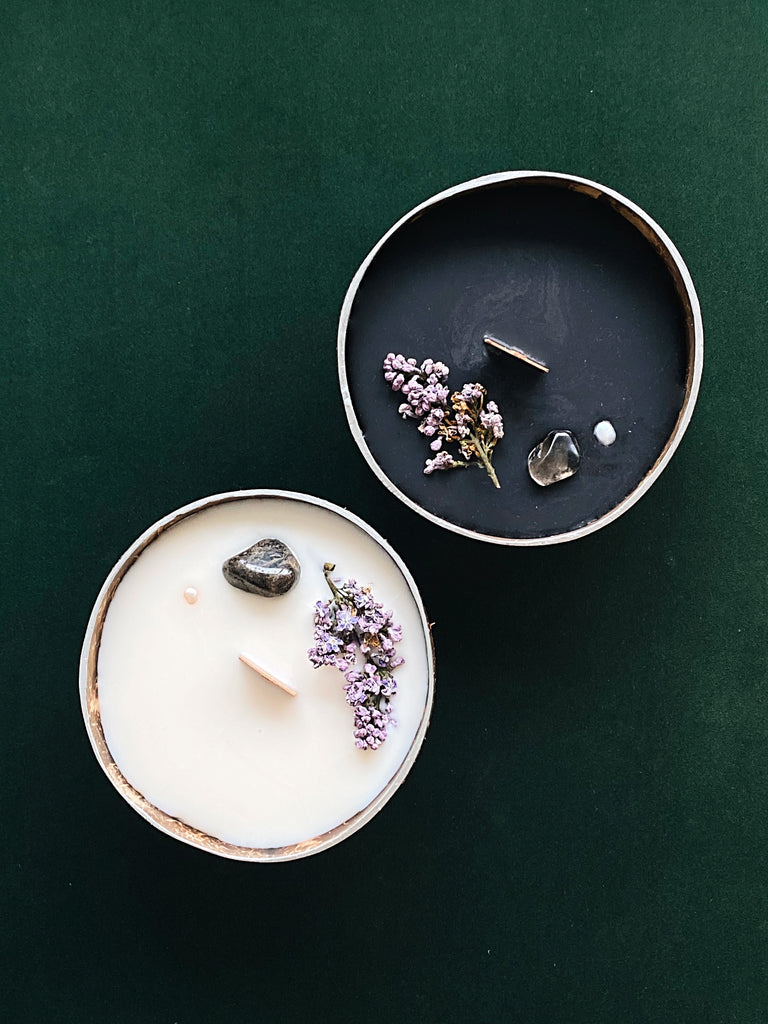 $60.00
$0.00
You Are Infinite
LUNAR & SOLAR ECLIPSE 2021
GEMSTONE: 

 Shamanic Dream Quartz & Natural Pearl

 ESSENTIAL OILS:

Neroli  | Citronella | Juniper Berry | Frankincense | Elemi  

DRIED HERBS & FLOWERS: 

Hand-picked & Air-dried Lilac Flowers


Our 'You Are Infinite' Coconut Crystal Candle was first poured on the Blood Moon Eclipse on May 26th 2021 with the intention to move through any darkness and transform it into light. Four white wax candles were made to represent those in the light, needing guidance from the shadows in order to grow and transform, and four black wax candles for those in the shadows and darkness, needing guidance from the light to rise like the infinite Phoenix they are. The Shamanic Dream Quartz in this limited edition is used to aid spiritual journeys and call on guidance from your past and future, in this world and the next. The lilac and it's purple colour connect to the crown chakra and third eye, brining awareness and love from the spiritual world to the physical one. The aroma combination in this candle calms the nervous system and purifies the spiritual and physical space surrounding the soul who lights the candle. Neroli, the main oil used in this candle, is known to increase serotonin, reducing stress - setting up the right space to connect deeply with yourself or other beings beyond yourself. Your being is infinite, both in light and darkness - you exist through it all. 
This is an intention candle. It is a tool to help guide the thoughts and senses. Each of our Coconut Crystal Candles is ethically made in Canada by the founder and her mother, using only the highest quality ingredients that have been consciously sourced. The vessel of this candle is a natural coconut shell treated with unrefined coconut oil and a non-toxic, biodegradable gold paint. To ensure positive energy in the candle each stone is cleared and then set with the intention of the candle. 

We take pride in our products coming from nature and being able to return to it. Please note that this means each candle varies in size, shape and composition of ingredients.
Burn Time: 55+ Hours
Ingredients: Coconut Shell (Vietnam), Non-GMO Coconut/Soy Wax, Pure Essential Oils, Dried Herbs and Flowers, Crystal, FSC Wooden Wick (USA), Cold-Rolled Steel Clip, Non-Toxic Water-Based Paint

Product is shipped from Pickering, ON Canada in eco-friendly packaging.  Included with product: YATUEI Intention & Ritual Guide, Ingredient List and Information, Safety Warning and Burn Instructions.