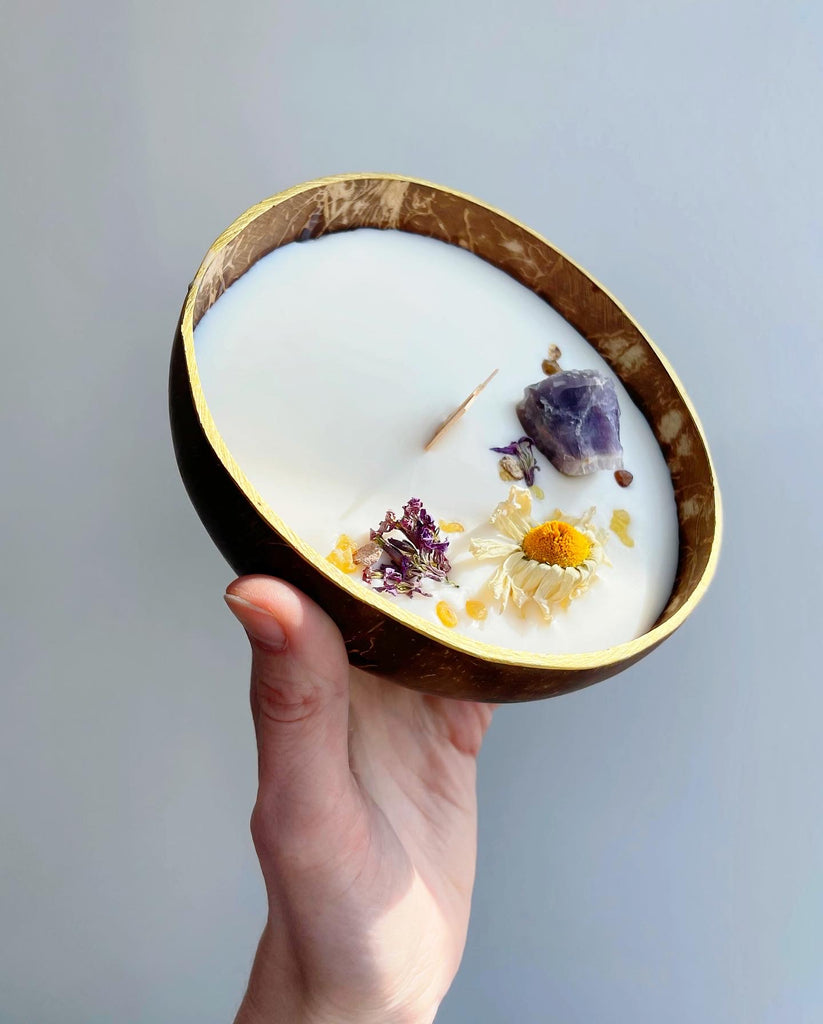 $60.00
$0.00
You Are Anew
22/2/22 PORTAL  - LUNAR CYCLE
GEMSTONE: 

 Raw Amethyst - Thunder Bay, Ontario

 ESSENTIAL OILS:

Lemon  | Frankincense | Ginger | Clary Sage  

DRIED HERBS & FLOWERS: 

 Hand-dried Daisies | Ontario Wildcrafted Violets | Frankincense Tears


Our 'You Are Anew' Coconut Crystal Candle was made on the evening of the February 22nd, 2022 palindrome portal by my Mother and I. As the first layer cooled overnight, I left the Raw Amethyst Crystals outside under the night sky and covered by the light snowfall in the dawn. The portal energy now carried within the crystals atomic structure is a very powerful and calming all at once. The gemstone is a hand-mined piece of Raw Amethyst, collected by the owner of YATUEI during the Summer of 2020. Both the Daisies and Violets were wildcrafted by the owner from the forests of Duffins Creek, Ontario. Daisies name come from "Days Eyes", a sign of new beginnings and what is seen when one first becomes awake. Violets are a symbol for spirituality, wisdom and humility - all of which are greatly needed in this time. The combination of the yellow and purple pieces in this candle tie the Crown and Solar Plexus Chakra together by connecting our spirit with our authentic self. The essential oils used are a both awakening; with a strong citrus scent, and soothing as they encourage a shift within oneself and ones surroundings. The Clary Sage, Ginger and Frankincense create the anchoring scent that keeps ones mind calm and grounded while the citrus alerts the mind and creativity. This candle is ideal for an individual who is needing a fresh start and is ready to change into the authentic self they were always meant to become. A portal of light guiding the way to your future self. 
This is an intention candle. It is a tool to help guide the thoughts and senses. Each of our Coconut Crystal Candles is ethically made in Canada by the founder and her mother, using only the highest quality ingredients that have been consciously sourced. The vessel of this candle is a natural coconut shell treated with unrefined coconut oil and a non-toxic, biodegradable gold paint. To ensure positive energy in the candle each stone is cleared and then set with the intention of the candle. 

We take pride in our products coming from nature and being able to return to it. Please note that this means each candle varies in size, shape and composition of ingredients.
Burn Time: 55+ Hours
Ingredients: Coconut Shell (Vietnam), Non-GMO Coconut/Soy Wax, Pure Essential Oils, Dried Herbs and Flowers, Crystal, FSC Wooden Wick (USA), Cold-Rolled Steel Clip, Non-Toxic Water-Based Paint

Product is shipped from Pickering, ON Canada in eco-friendly packaging.  Included with product: YATUEI Intention & Ritual Guide, Ingredient List and Information, Safety Warning and Burn Instructions.